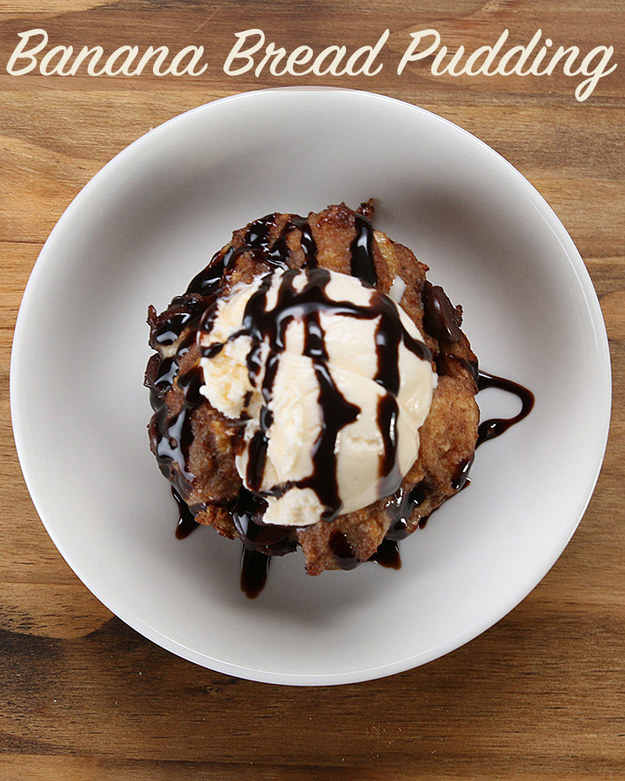 Ingredients
6–7 slices of bread (whatever is about to go stale)
4 ripe bananas
3 eggs
1 cup milk
1 tsp cinnamon
2 tsp vanilla extract
1 cup chocolate chips
Directions
On a cutting board, cut bread into small cubes. Place onto a baking sheet and bake at 350°F/175°C for five minutes to help dry the bread out.
In a large mixing bowl, add ripe bananas and mush before adding in beaten eggs, milk, cinnamon, and vanilla extract, and stir. Once fully mixed, add bread and let it soak for five to 10 minutes before adding in chocolate chips. Stir together, and spoon mix into a large muffin tin.
Bake at 350°F/175°C for 20 minutes.
Scoop your favorite ice cream or whipped cream and top with chocolate syrup.
https://freerecipenetwork.com/banana-bread-pudding/
© Copyright 2021 FreeRecipeNetwork.com All Rights Reserved
http://www.buzzfeed.com/richedwards/this-shit-is-bananas#.veP84le5k