Cauliflower and Edamame Pasta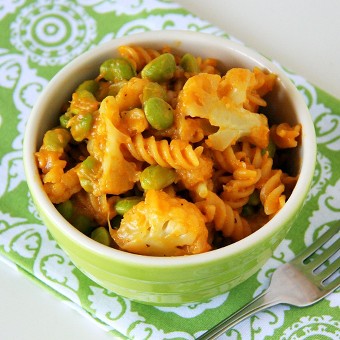 Cauliflower and Edamame Pasta
Ingredients
2-3 tablespoons olive oil
1 medium onion, diced (about 1 cup)
2-3 cloves garlic, minced
4 cups vegetable stock, divided, (additional for a saucier pasta)
8 ounces fusilli pasta
1 pound cauliflower, chopped
1 1/2 cups shelled edamame
1 cup freshly-grated Parmesan, Pecorino Romano or other flavorful cheese, plus more for serving
Salt and freshly ground black pepper, to taste
Directions
Heat a large skillet or saute pan over medium heat. Add oil and onion to hot pan and stir for a couple of minutes to soften.
Add garlic and stir for 30 seconds longer. Add 2 cups of stock, pasta, cauliflower and edamame.
Continue cooking over medium heat, stirring frequently and adding additional stock 1/2 cup at a time as it is absorbed until cauliflower is tender and pasta is cooked but still firm, about 10 minutes.
Stir in cheese, season with salt and pepper and serve immediately.
https://freerecipenetwork.com/cauliflower-and-edamame-pasta/
© Copyright 2021 FreeRecipeNetwork.com All Rights Reserved
Get Cooking: http://www.cooking.com/recipes-and-more/recipes/cauliflower-edamame-pasta-recipe#ixzz3jHozRIvR