Chicken Avocado Casserole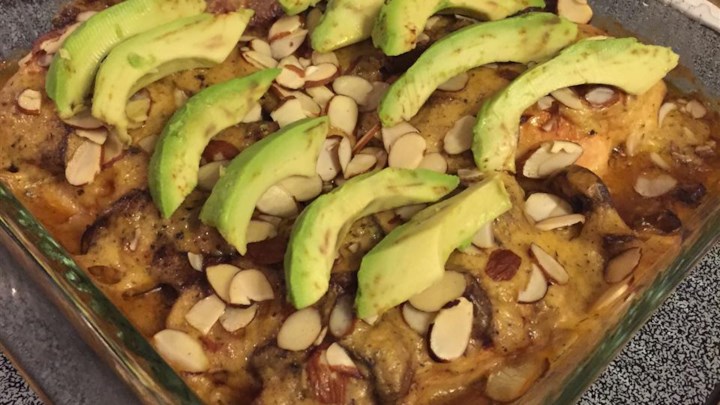 Chicken Avocado Casserole
Ingredients
7 tablespoons butter, divided
1 tablespoon olive oil
8 skinless, boneless chicken breast halves
/4 cup all-purpose flour
1 cup light cream
1 cup chicken broth
3/4 teaspoon Morton® Kosher Salt
1/4 teaspoon ground black pepper
1/2 cup grated Parmesan cheese
2 dashes hot pepper sauce
1/2 teaspoon dried rosemary, crushed
1/2 teaspoon dried basil
3 cups sliced fresh mushrooms
1/4 cup sherry
1/2 cup sliced almonds, toasted
2 avocados
Directions
Preheat the oven to 350 degrees F.
Melt one tablespoon of butter in large heavy skillet. Add olive oil and swirl together with the butter. Add chicken and saute until chicken pieces are browned and juices run clear. Turn pieces to brown evenly while sauteing. Place chicken breasts in 9x13 baking dish and set aside.
Melt 4 tablespoons of butter until foamy. Stir in flour, and cook for three minutes, stirring constantly. Slowly add cream and chicken broth. Continue stirring and cooking until smooth and thickened. Season sauce with Morton(R) Kosher Salt, black pepper, Parmesan cheese, hot pepper sauce and herbs. Set aside.
Saute mushrooms in remaining two tablespoons of butter. Add sherry and cook until reduced. Place mushrooms over the chicken. Pour the sauce over the chicken and mushrooms.
Bake uncovered for 25 minutes, then sprinkle with almonds, and return to oven for 10 minutes. Peel and slice avocados lengthwise and place over chicken before serving.
https://freerecipenetwork.com/chicken-avocado-casserole/
© Copyright 2023 FreeRecipeNetwork.com All Rights Reserved
http://allrecipes.com/recipe/70985/chicken-avocado-casserole/