Country-Style Sausage and Beans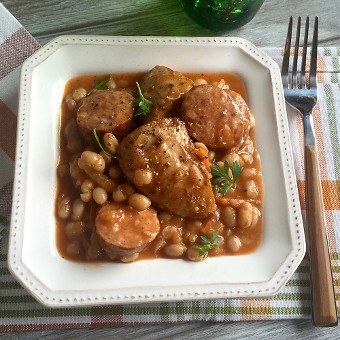 Country-Style Sausage and Beans
Ingredients
2 tablespoons olive oil
1 onion, finely chopped
1/2 cup matchstick-cut carrots
2 garlic cloves, finely chopped
2 skinless boneless chicken thighs, cut into 2-inch pieces
1/2 teaspoon each salt and pepper
1 (14-ounce) package smoked sausage, cut into 1/2-inch-thick slices
1 (15 1/2-ounce) can cannellini beans, rinsed and drained
1 (8-ounce) can tomato sauce
1/2 cup chicken broth
2 tablespoons chopped fresh parsley
Directions
Heat the oil in a large skillet over medium-high heat. Add the onion, carrots and garlic and cook, stirring occasionally, until the vegetables are tender, about 8 minutes.
Sprinkle the chicken with salt and pepper. Add the chicken to the skillet and cook, turning occasionally, until browned, about 5 minutes. Add the sausage, beans, sauce and broth; bring to a boil.
Reduce the heat and simmer, stirring occasionally, until the flavors are blended, about 10 minutes.
Remove from the heat; stir in the parsley.
https://freerecipenetwork.com/country-style-sausage-and-beans/
© Copyright 2021 FreeRecipeNetwork.com All Rights Reserved
http://www.cooking.com/recipes-and-more/recipes/country-style-sausage-beans-recipe