French Onion Soup Casserole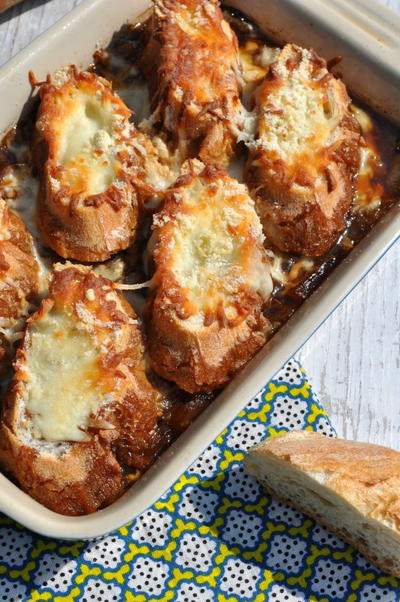 French Onion Soup Casserole
Ingredients
3 medium sweet onions, sliced
3 tablespoons butter
4 cups beef broth
1 teaspoon Worcestershire sauce
Approximately 6-8 slices French bread, about 1/2-inch in thickness
1 cup shredded mozzarella cheese
1/2 cup grated Parmesan cheese
Directions
Melt butter in a large saucepan over low heat. Add onions and cover. Cook for about 30 minutes, stirring occasionally.
Add the beef broth and the Worcestershire sauce. Heat the broth mixture until it boils.
Reduce heat to low. All to simmer, uncovered, for about 30 minutes. The broth will reduce.
Pour onion and broth mixture into a greased casserole dish.
Lightly toast the slices of bread. Place toasted bread in a single layer on top of onion/broth mixture.
Cover bread with a thick layer of the shredded mozzarella and top with grated Parmesan.
Bake, uncovered, in a 350 degree oven for 20 to 30 minutes, or until cheese is melted and brown on top.
https://freerecipenetwork.com/french-onion-soup-casserole/
© Copyright 2021 FreeRecipeNetwork.com All Rights Reserved
http://www.recipelion.com/Casserole-Recipes/French-Onion-Soup-Casserole