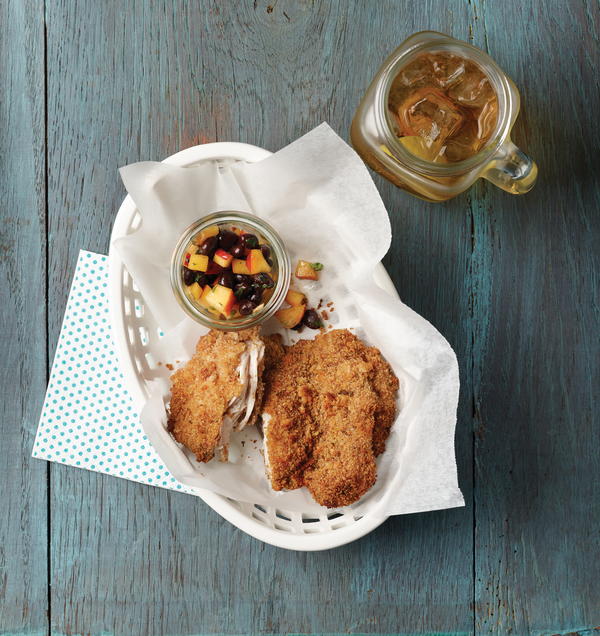 Ingredients
OVEN FRIED CHICKEN
2 cups Italian-style whole-wheat breadcrumbs
1 large clove garlic
1 tablespoon Stress Free Cooking Italian Seasoning Blend
1/2 cup all-purpose flour
2 large eggs, whisked with 1 tablespoon water
4 large egg whites
8 boneless, skinless chicken thighs (about 2 pounds)
STRESS FREE COOKING ITALIAN SEASONING BLEND
1 tablespoon onion powder
1 tablespoon garlic powder
1 tablespoon celery seed
1 tablespoon fine sea salt
1 tablespoon freshly milled black pepper
1 teaspoon dried oregano
1 teaspoon dried rosemary
1 teaspoon dried parsley
Directions
Preheat oven to 375 degrees F convection or 400 degrees F traditional oven. Place breadcrumbs, garlic, and 1 tablespoon Stress Free Cooking Italian Seasoning Blend in food processor. Process until well blended.
Place flour in pie plate. Place eggs and egg whites in a separate pie plate. Place breadcrumb mixture in a third pie plate.
Line a large baking sheet with parchment paper.
Dip chicken in flour and coat on all sides, then in egg, and then in breadcrumbs. Coat evenly.
Place on parchment-lined baking sheet. If you have time, refrigerate the chicken for a while before cooking.
Bake chicken for 45 minutes until crispy and nicely browned. Serve with picnic condiments or salads. Can be made ahead and frozen for reheating in a very hot oven. Defrost before reheating.
https://freerecipenetwork.com/oven-fried-chicken/
© Copyright 2023 FreeRecipeNetwork.com All Rights Reserved
http://www.everydaydiabeticrecipes.com/Chicken/Oven-Fried-Chicken-ADA