Overnight Apple-Cinnamon Oatmeal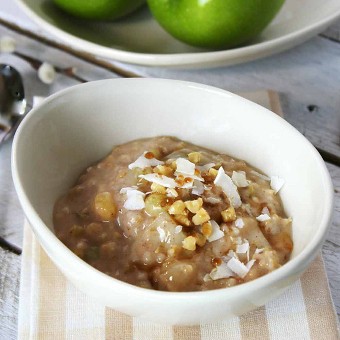 Overnight Apple-Cinnamon Oatmeal
Ingredients
4 cups water
2 cups milk
1 cup steel-cut oats
2 Granny Smith apples, chopped
1/2 cup golden raisins
1 1/2 teaspoons ground cinnamon
1/2 teaspoon salt
1/4 cup maple syrup
1/4 cup toasted walnuts
1/4 cup shredded coconut
Directions
Combine the water, 1 cup milk, oats, apples, raisins, cinnamon and salt in a 2-quart slow cooker.
Cover and cook until the oats are very tender and the mixture is thick and creamy, 7-8 hours on low.
Stir in the remaining 1 cup milk and maple syrup until blended. Serve topped with the walnuts and coconut.
Tip: Soy, almond or coconut milk may be used if you prefer a dairy-free alternative. Be sure to use steel-cut oats as old-fashioned oats will become too mushy in a slow cooker.
https://freerecipenetwork.com/overnight-apple-cinnamon-oatmeal/
© Copyright 2021 FreeRecipeNetwork.com All Rights Reserved
http://www.cooking.com/recipes-and-more/recipes/overnight-apple-cinnamon-oatmeal-recipe#axzz3nLHCd9om