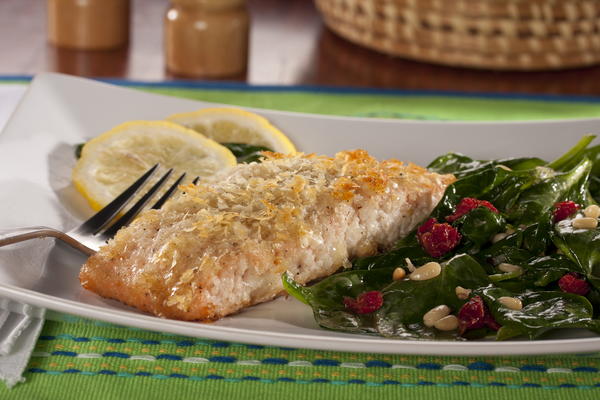 Ingredients
1/3 cup instant mashed potato flakes
1/4 teaspoon onion powder
1/4 teaspoon salt
1/4 teaspoon black pepper
2 (6-ounce) frozen salmon fillets, thawed, skin removed
1/4 cup ( stick) butter, melted
Directions
Preheat oven to 350 degrees F. Coat a 7- x 11-inch baking dish with cooking spray.
In a shallow dish, combine potato flakes, onion powder, salt, and pepper; mix well. Dip fillets in melted butter then coat with potato mixture; place in prepared baking dish. Sprinkle any remaining potato mixture evenly over the top. Drizzle remaining butter over the fillets.
Bake 20 to 25 minutes, or until fish flakes easily with a fork and potato crust is golden. Serve immediately.
https://freerecipenetwork.com/potato-crusted-salmon-2/
© Copyright 2021 FreeRecipeNetwork.com All Rights Reserved
Read more at http://www.mrfood.com/Fish/Potato-Crusted-Salmon-870#cD715mcjharkzLeP.9