Quick Mushroom and Tofu Stir-Fry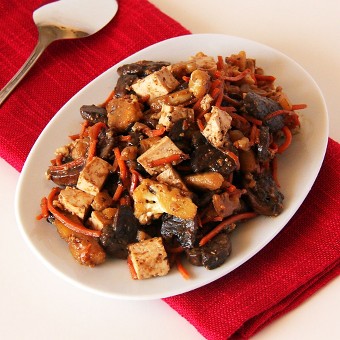 Quick Mushroom and Tofu Stir-Fry
Ingredients
3 tablespoons olive oil
1 medium head cauliflower, sliced into 1/4-inch thick, bite-size pieces (about 6 cups)
1 1/4 pounds (20 ounces) sliced mushrooms
5 cups shredded carrots (about 10 ounces)
1/3 cup bottled teriyaki sauce, plus more to taste
2 tablespoons soy sauce, or to taste
1 tablespoon rice wine vinegar, or to taste (optional)
16 ounces extra-firm tofu, squeezed dry and cubed
2 tablespoons chili paste such as Gochujang, plus more for serving
Salt and freshly ground black pepper, to taste
Directions
Add oil to a large hot skillet, saute pan or wok. Add cauliflower and mushrooms and stir for 3-4 minutes until they start to soften.
Add carrots, teriyaki, soy sauce and rice wine vinegar and continue to stir for a couple of minutes until veggies are tender. Add tofu and chili paste and stir for a minute longer to incorporate.
If desired, add a splash of teriyaki to sweeten, soy sauce to add saltiness and/or rice wine vinegar for additional acidity.
Season with salt and pepper to taste and serve immediately with steamed rice, if desired.
https://freerecipenetwork.com/quick-mushroom-and-tofu-stir-fry/
© Copyright 2021 FreeRecipeNetwork.com All Rights Reserved
Get Cooking: http://www.cooking.com/recipes-and-more/recipes/quick-mushroom-tofu-stir-fry-recipe#ixzz3jHtEwnnR