Slow Cooker Breakfast Casserole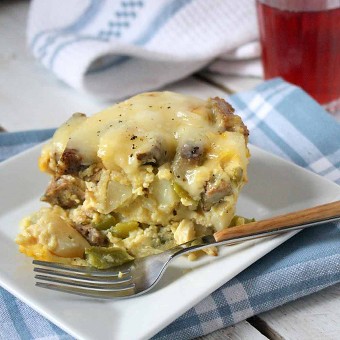 Slow Cooker Breakfast Casserole
Ingredients
2 tablespoons canola oil
One 16-ounce package refrigerated diced cooked potatoes
1 large red onion, thinly sliced
1 green bell pepper, chopped
1/2 teaspoon salt
One 9.6-ounce package turkey breakfast sausage patties, thawed and crumbled
12 large eggs
1 cup milk
1 cup shredded pepper jack cheese
Directions
Spray the insert of a 5-quart slow cooker with cooking spray.
Heat the oil in a large nonstick skillet over medium-high heat. Add the potatoes, onion, bell pepper and 1/4 teaspoon salt.
Reduce the heat to medium and cook, stirring occasionally, until the potatoes begin to brown and the vegetables are tender, about 12 minutes.
Scatter the sausage evenly onto the bottom of the slow cooker. Top evenly with the potato mixture.
Whisk together the eggs, milk and remaining 1/4 teaspoon salt in a large bowl until blended. Pour in the egg mixture. Sprinkle the cheese evenly over the egg mixture leaving a 1-inch border around the edges to prevent the egg mixture from sticking.
Cover and cook until the eggs are set, and a knife inserted in the center comes out clean, 2 1/2-3 hours on low or 2 hours on high.
https://freerecipenetwork.com/slow-cooker-breakfast-casserole/
© Copyright 2021 FreeRecipeNetwork.com All Rights Reserved
http://www.cooking.com/recipes-and-more/recipes/slow-cooker-breakfast-casserole-recipe#axzz3nLHCd9om