Vegetable and Chickpea Couscous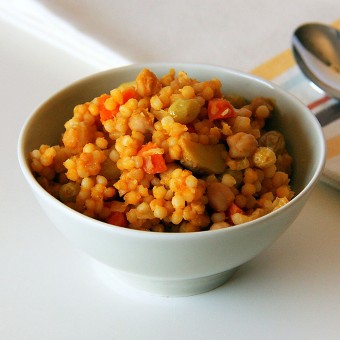 Vegetable and Chickpea Couscous
Ingredients
2 tablespoons oil
1 cup diced onions
2 garlic cloves, minced
1 cup small-diced carrot
1 cup small-diced waxy potato, such as fingerling
1 teaspoon ground cumin
1 1/3 cups Israeli couscous
3 cups vegetable stock
1 cup golden raisins
1 1/2 teaspoons salt, or to taste
Freshly ground black pepper to taste
Directions
Heat a large skillet or saute pan over medium heat. Add oil and onions to the hot pan and stir for a couple of minutes to soften. Add garlic and cook 30 seconds longer.
Add carrot, potato and cumin and continue cooking for 2-3 minutes. Add couscous and stir for 2 minutes.
Add stock, raisins and salt and continue cooking for 10-12 minutes, stirring regularly, until couscous and veggies are almost fully cooked.
Lower heat to low setting, cover and let sit for 2 minutes or until couscous and veggies are done.
Add pepper and adjust seasonings to taste preference. Serve immediately.
https://freerecipenetwork.com/vegetable-and-chickpea-couscous/
© Copyright 2023 FreeRecipeNetwork.com All Rights Reserved
Get Cooking:
http://www.cooking.com/recipes-and-more/recipes/vegetable-chickpea-couscous-recipe#ixzz3jHv8YhTf